Blessed feast of Pentecost!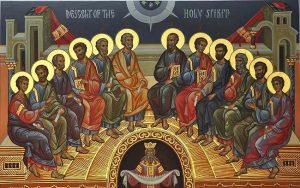 This year, the Sunday of Pentecost landed on May 27. Pentecost is a "Major Feast" in The Orthodox Church. It marks the descent of the Holy Spirit in the form of "tongues of fire" upon the disciples and followers of Christ fifty days after PASCHA. After the dismissal of The Divine Liturgy, we  immediately entered into the "Kneeling Prayers" of Pentecost taken from the Great Vespers service called for on the evening of this feast.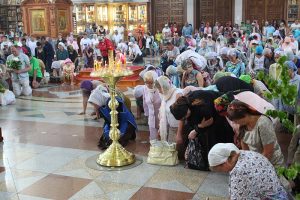 The late Fr. Alexander Schmemann, onetime Dean of Saint Vladimir's Orthodox Theological Seminary, offers the following concerning the three special prayers of Pentecost:
"We are invited to kneel. This is our first kneeling since Easter. It signifies that after these fifty days of Paschal joy and fullness, of experiencing the Kingdom of God, the Church now is about to begin her pilgrimage through time and history. It is evening again, and the night approaches, during which temptations and failures await us, when, more than anything else, we need Divine help, that presence and power of the Holy Spirit, who has already revealed to us the joyful End, who now will help us in our effort towards fulfillment and salvation."
Together, bowing-low, we bowed our hearts and brought to God our repentance, and hope for forgiveness of sins.
Together, bowing-low, we bowed our hearts and cried out asking the Holy Spirit to help us, yearning to be taught how to pray and better follow the true path in these dark and difficult times where the foundation, and boundaries, of society are crumbling.
Together, bowing-low, we bowed our hearts and called to remembrance all those who have finished "the race" and completed "the marathon" of life, yet remain united with us through the love of God.
Each day we are all called to bow our hearts "unto the Lord" and truly realize what an incredible, and sobering, act it is to enter into such prayers – supplicating the Holy Trinity is a serious gift.