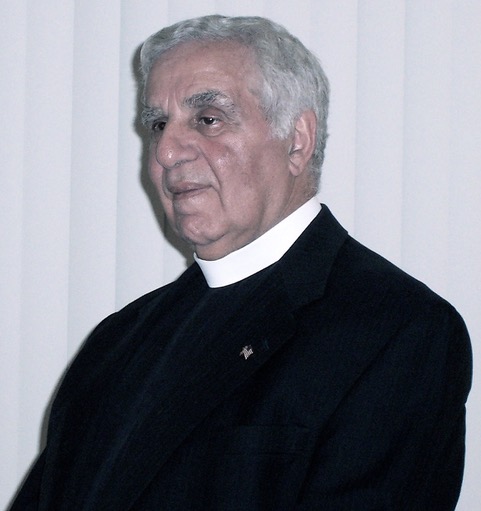 Biographical Information
| | |
| --- | --- |
| Born: | May 12, 1932, Canton, Ohio |
| Education: | Gibbs Avenue Elementary |
| | Canton McKinley High School – Class of '50 |
| College: | Kent State University, Kent, Ohio (1950 – 1951) |
| | American University, Washington, D.C.– Graduated June– 1955 |
| | B.A. in Political Science/Public Administration |
| Seminary: | St. Vladimir's Theological Seminary, Feb. 1958 |
| | Graduated, June 1960 Masters of Theology |
| Married: | June 21, 1959 to Diane R. Davis of Pittsburgh, Pa. |
| | Three children: Rebecca, Joseph & Philip |
| Ordination: | To the Diaconate on September 13, 1959 in Washington, D.C. |
| | Holy Priesthood on September 20, 1959 in Canton, Ohio |
| Elevation: | Archpriest on October 30, 1977 in Montreal, Quebec, Canada |
| | (Highest rank of a married clergyman.) |
Positions and Honors:
Served as Ecclesiarch at the National Conventions of the Archdiocese since 1971.
Clergy Advisor to the Regional Teen Organization, Regional Fellowship (Young Adult) Organizations and Regional Advisor to the Order of St. Ignatius of Antioch.
National Spiritual Advisor to the Fellowship
Appointed as a Delegate to the National Council of Churches by Metropolitan Antony Bashir
Pastor of St. George of Philadelphia, Pa. 1959 – 1960
Pastor of St. George of Indianapolis, Indiana 1960 – 1969
Pastor of St. Nicholas of Montreal, Quebec, Canada 1969 – 2000
Pastor of St. Paul of Naples, Florida 2000 –
Was pastor during the building of a new Church in Indianapolis completed in 1962
Was pastor during major interior renovation of St. Nicholas of Montreal 1996.
Was Pastor during the building of St. Paul in Naples
Hosted Regional Conferences in Indianapolis and Montreal 4 times.
Hosted Archdiocese National Convention in 1974 in Montreal.